Buy St. Joseph's Day Italian Dinner Tickets
Reserved Dinner Package – Adult/Child ($20)
Best deal! Includes: Reserved seating for one adult or child with pasta dinner, dessert, soda/wine/beer, and gift basket drawing entry
Dinner General Seating – Adult ($15)
Includes: Pasta dinner for one adult in open seating area of hall
Dinner General Seating – Child Under 12 ($8)
Includes: Pasta dinner for one child under 12 in open seating area of hall

Purchase your dinner tickets online between now and Feb 24th to be entered into an exclusive prize drawing on the day of the event!
Tickets will also be on sale after Mass beginning Sunday, Feb 25th.
PROCEEDS BENEFIT ST. PASCHAL BAYLON CHURCH AS WELL AS LOCAL AND NATIONAL CHARITABLE ORGANIZATIONS
What is St. Joseph's Day?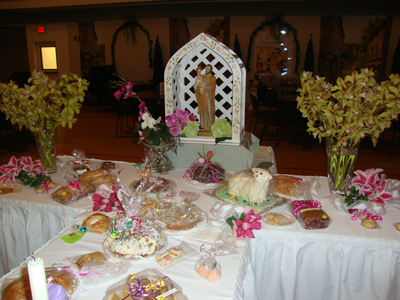 St. Joseph's Day is a religious tradition that started centuries ago in Sicily. When Sicilians were affected by a severe drought they turned to St. Joseph, the father of Jesus and head of the Holy Family, to rescue them by asking him to intercede before God for their cause. An abundance of rain poured over the fields and their crops were saved. Each March, many Italians worldwide celebrate this event with a procession after Mass, a beautifully decorated table with baked goods, and a pasta dinner.
The Italian Catholic Federation at St. Paschal Baylon Church in Thousand Oaks has hosted this family-friendly heritage event in our community for over thirty years. The day starts with a large bake sale in the morning featuring plenty of Italian favorites, and ends with an afternoon pasta dinner featuring live musical entertainment (see schedule below).
Video Highlights
Learn more about St. Joseph's Day and the Italian Catholic Federation by viewing this video from 2011 commemorating our 25th year:

When and Where is This Year's Event?
Sunday, March 18th, 2018
St. Paschal Baylon Parish Hall
155 E. Janss Rd, Thousand Oaks, CA
(Directions)

Schedule:
8:15AM to 1:30PM – Bake Sale
After 9:00AM Mass – Procession and Table Blessing
4:00PM to 7:00PM – Italian Dinner with Live Entertainment (The Rhythym Kings)